This simple model of DNA shows six base pairs and can be used to model strands of RNA. Suitable for GCSE and Advanced levels of education.

Each base (guanine, cytosine, thymine, adenine and uracil) is shown by a different colour with the sugar rings, phosphate groups and hydrogen bonds in black, red and white respectively.

Assembled height: 24cm (10 inches)

This Orbit molecular modelling kit includes: 12 bases in five colours, 6 hydrogen bonds, 12 sugar rings, 10 phosphoric acid units, 20 nucelotide connectors. Instruction booklet and support stand.
Orbit Small DNA Model Kit
| | | | |
| --- | --- | --- | --- |
| | Component | Quantity | Order Code |
| | Orbit rigid grey straw | 1 | 0211 |
| | Orbit Hb white | 7 | 0224 |
| | Orbit Od red | 13 | 0230 |
| | Orbit Cj black | 13 | 0241 |
| | Orbit Ck black | 1 | 0244 |
| | Orbit rigid green 5cm straw | 3 | 0455 |
| | Orbit yellow 2cm flex straw | 24 | 1133 |
| | Orbit rigid mixed straws for (0039) | 1 | 1644 |
| | Instruction leaflet | 1 | |
Customer reviews shown below. Leave a review
Product quality:


Service and delivery:


Age of user: 16 - 18

Orbit Small DNA Model Kit

Submitted by: Ms Joanne Parbery (19/09/2018)

Simple to construct, engaged students.

Response from Cochranes: Thank you very much for your review

Verified purchase

---

Product quality:


Service and delivery:


Orbit Small DNA Model

Submitted by: Mr H, Aberdeen (21/05/2012)

Items arrived quickly. My teenagers are very pleased with them and are finding them helpful for their understanding of chemistry.

---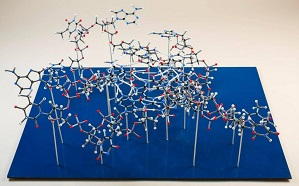 Quadruplex DNA
One of our favourite customer photos