Sign up for our email newsletter for details of special offers, product updates, teachers' tips and our latest news.
Register here - we won't pass your details on...


VEGA Trust Resources
Primary school buckyball activity
C60 model building instructions


Minit Buckyball activity kit
Product Code: 0281
0 Reviews | Submit a review | Add to favourites | Tell a friend
A fascinating group activity using free lecture material from Professor Sir Harry Kroto. Each pack has 100 kits making it a great outreach or extension activity in addition to using in the classroom.

The Buckyball kits use the Minit molecular modelling system.
Each kit makes either a C60 'buckyball' or C70 'rugby-ball' fullerene. The diameter of the assembled C60 model is 12cm.

Use with lecture material from Professor Sir Harry Kroto - available free from the Vega Trust at www.vega.org.uk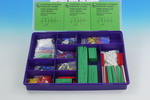 New storage boxes for group sets
Sturdy plastic storage solutions to last as long as our sets
More info...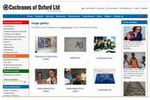 Share your product images
Upload your photos of our products in action to our new gallery page
More info...