Sign up for our email newsletter for details of special offers, product updates, teachers' tips and our latest news.
Register here - we won't pass your details on...


Contents of Minit Sets


Minit Lattices Group Set
Product Code: 0077
0 Reviews | Submit a review | Add to favourites | Tell a friend
Study the structures of diamond, graphite, metals (Iron, Copper & Magnesium), sodium chloride, zinc blende, wurzite, caesium chloride, rutile, ice Orthoboric acid, cadmium chloride and cadmium iodide. Make sizeable models of up to 100 atoms in each or multiple smaller models.

1470 atoms, 1160 bonds, 3 booklets in a sturdy compartmented box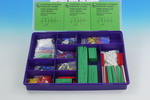 New storage boxes for group sets
Sturdy plastic storage solutions to last as long as our sets
More info...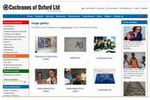 Share your product images
Upload your photos of our products in action to our new gallery page
More info...